How to Recover Data from Failed Hard Drive?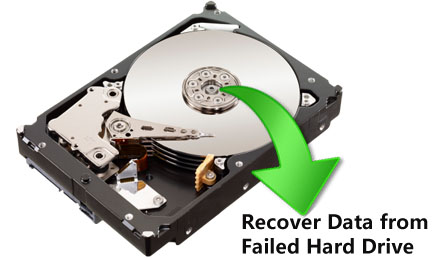 When you have a failed hard drive, it's more likely that you won't be able to access your hard drive. So if you there are some important files you don't want to lose on the hard drive, it's almost impossible for you to move the files into a hard drive which is working perfectly. You can recover the files by pay some professionals to do it, but it will be costly. It's not recommended. In fact, by following the method you can learn from this article, you can do it by yourself properly.
But before we get started, you have to install a disk recovery software which will be used in the method.
Note: Make sure the problem you're facing is really a hard drive failure. You can check it by unplugging the hard drive from your computer, and try to connect it to another computer. If it's readable and it seems okay, then the problem you're actually facing is the equipment glitch which could cause a boot failure. In other words, your hard drive is okay. What needs to be fixed is one of your computer hard drives.
Software to Help you Recover Data from Failed Hard Drive
The software which can help you recover data from failed hard drive is 7thShare Data Recovery. It offers easy solution to help you export and recover all data from a failed hard drive. Moreover, unlike other data recovery software you can find on the internet, by using 7thShare Data Recovery, you can recover almost all types of files, including emails, photos, videos, audio, archives, documents, etc. Not to mention that it also perfectly suitable for both Windows and Mac – including Windows 10 and macOS Sierra.
Click the link below to download 7thShare Data Recovery and install it on your computer. The download and installation process will only take a few minutes, so you shouldn't worry it will cost too much of your time. Once 7thShare Data Recovery has been downloaded and installed on your computer, you can follow the method to recover files from failed hard drive below, as well as recover data from crashed hard disk
Easy Guide on How to Recover Files from the Failed Hard Drive
Step 1: Select the file types.
Launch 7thShare Data Recovery, and you'll see a list of file types you can recover. Just select the file types you want to recover. Otherwise, 7thShare Data Recovery will find all types of files on the failed hard drive.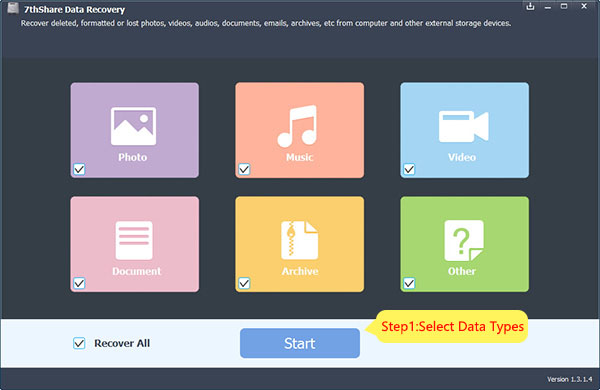 Step 2: Select the failed hard drive to scan.
Now, you can see all hard drives connected with this computer including the failed hard drive. Click on the failed hard drive, and then click the "Start Scan" button to scan the failed hard drive to find lost files.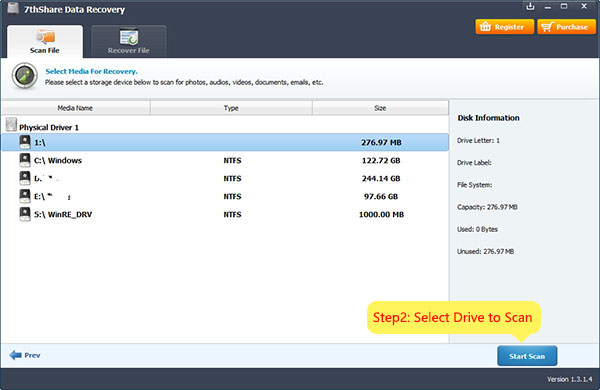 If the failed hard drive is not readable, just check the hard drive whether it's connected properly to your computer or not. It could solve the issue.
Step 3: Preview and recover lost files.
After the scanning process is done, you can see the preview of all the files you can recover using 7thShare Data Recovery. Now, simply click all the files you want to recover, and then click "Recover" button to start the recovery process.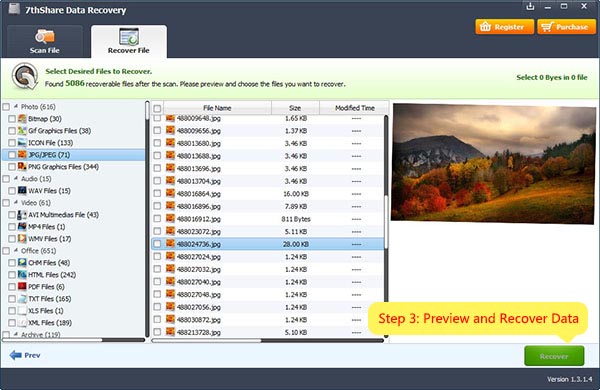 Now, all you need to do is just sit back and let the software do the magic. It may take a few minutes or longer depending on how big the size of data you want to recover. Once the process is done, close the software, and rest assured knowing all the files has been recovered successfully.