Best Solution to Restore Lost Data from Laptop Hard Drive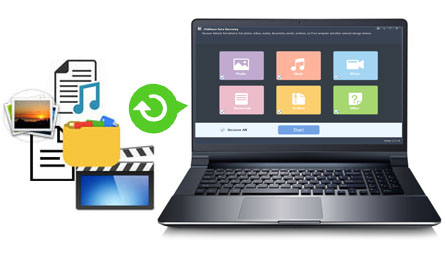 Nowadays, instead of working on a desktop computer, people prefer to work on their laptop because it makes them able to do their work almost anywhere. If you also work on your laptop, I believe there are a lot of important files on your laptop hard drive. And now, because you visit this article, I'm guessing you just lost some of those files.
It could be because you accidentally deleted the files, the hard drive is corrupted, your laptop has been infected by a virus, or anything else which could make you lost your important files. So now, you want to learn how to recover data from laptop hard drive, right? If so, then this article could be your savior. Why? It's because, by following the method to recover data from laptop hard drive you can learn from this article, you can recover data quickly and easily. It means you can save a lot of your time.
In fact, all you need to do is just install powerful data recovery software which is recommended to recover data from laptop hard drive, do a few simple clicks, and that's it. It's so easy even kids can do it by themselves. So let's get started with this method, shall we?
How to Quickly and Easily Recover Data from Laptop Hard Drive?
Step 1: Download and install 7thShare on your Laptop.
First thing first, before you follow this method, you should download and install the powerful data recovery software called 7thShare Data Recovery. So far it's the most reliable and safest tool to recover lost data from hard drive. And don't worry it won't take more than five minutes to download and install the software. Because, it comes in a tiny size. Click the link below to download 7thShare Data Recovery on your laptop computer.
Step 2: Run the software and select file types you want to recover.
Once it has been downloaded and installed properly on your computer, run the software. After that, you can see all types you can recover, just select the file types you want to recover.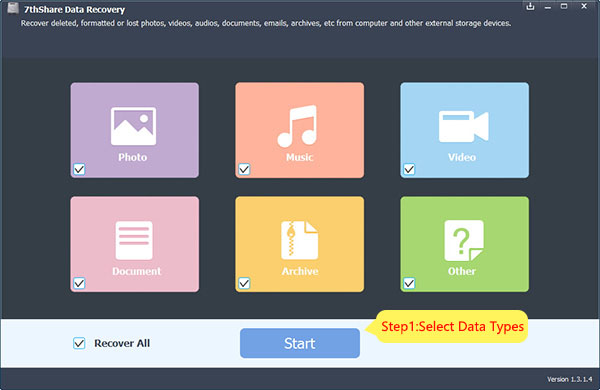 Step 3: Choose hard drive to scan.
Now you can see a list of all the hard drives, along with all the available storage devices which are connected to your laptop. Select the hard drive you want to recover lost data from. Then click on "Start Scan" button to scan the hard drive.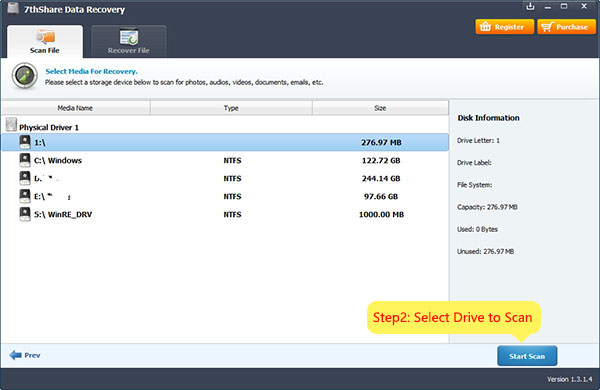 Step 4: Preview and retrieve all your lost data.
Once the scan is completed, you can see a preview of all the files you can recover. Now, simply choose all the files you want to recover, and click the green "Recover" button to start the recovery process.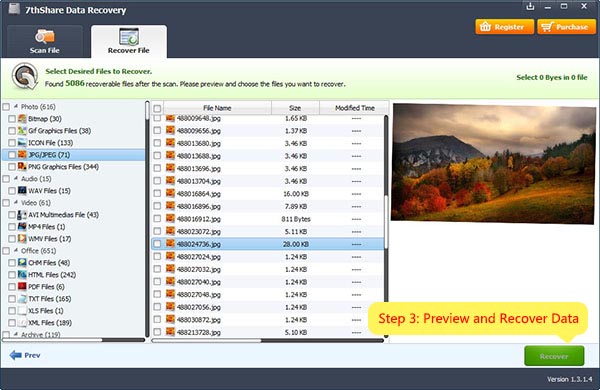 It is easy and quick to restore lost files from laptop hard drive with 7thShare Data Recovery. Whether you delete files from the laptop or format hard drive on the laptop, 7thShare Data Recovery can bring all lost files back within simple steps. It even can help you restore lost hard drive partition on a laptop. Just free download it here: